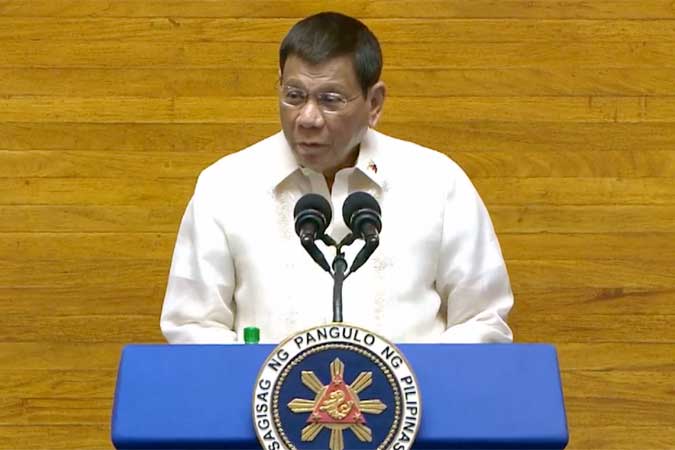 PHILIPPINE President Rodrigo R. Duterte on Monday asked lawmakers to pass bills seeking to ease restrictions on foreign ownership and investments a year before his six-year term ends.
The tough-talking president recited his legislative wishes in the last half hour of his almost three-hour state of the nation address — his last before he steps down on June 30, 2022 — from which he veered away from what's written on the teleprompter countless times.
Mr. Duterte struggled to read the teleprompter, as he went on and off script during his speech. "It's either I am talking too fast or too slow, or the operator of this thing here is drowsy. Maybe because I had so many ad-libs along the way," he said.
Mr. Duterte spent more than two hours talking about how he defeated the Maoist rebellion and expressing disappointment about how he failed to solve the country's drug problem.
"While we have made strides in ending rebellion and insurgency in various parts of the country, we still have long way in our fight against the proliferation of drugs," Mr. Duterte said. He was referring to his drug war that has killed thousands and that is being investigated by the United Nations-backed International Criminal Court (ICC).
He also devoted time recounting the accomplishments of his administration in the past five years, such as the construction of several roads and purchase of trains to ease the traffic gridlock in the capital region.
His government increased infrastructure spending to an average of 5% of the country's economic output, he said. "This is significantly higher than the infrastructure spending of each and past four administrations."
"It deserves an Olympic gold medal for best recycled speech," Raymond V. Palatino, secretary-general of Bagong Alyansang Makabayan and a former party-list representative, said in a Facebook Messenger chat.
"It was infuriating to hear him repeat the mantra of 'Kill, kill, kill' when what our people needed to hear was the President's marching orders to survive the Delta surge and overcome the pandemic," he added.
Mr. Duterte said the country could no longer afford prolonged lockdowns because this would inflict great damage on the economy. He urged Filipinos to get vaccinated to help achieve herd immunity. "We cannot afford any more lockdowns lest our economy bleeds to the point of irreversible damage," he said. 
In his speech at the House of Representatives building in Quezon City, Mr. Duterte urged Congress to pass changes to the Public Service Act and Foreign Investments Act.
He also said lawmakers should lower the required paid-up capital for foreign retailers by amending the Retail Trade Liberalization Act.
The bill seeking to change the country's 85-year-old public service law will allow full foreign ownership in the public service sector, including transportation and communications, which is limited to Filipino investors.
"We're very pleased he emphasized passing the priority bills — retail trade, public services and foreign investment," said Chris Nelson, executive director of the British Chamber of Commerce of the Philippines.
"Clearly, that echoes what we've been saying and that's very good to see," he said by telephone. Mr. Nelson said they would have wanted to hear the President talk about his government's infrastructure plans before he steps down.
Mr. Duterte failed to discuss his transportation plan, Employers Confederation of the Philippines President Sergio R. Ortiz-Luis, Jr. said by telephone.
"Traffic in Metro Manila it's getting worse. Why are we not improving our mass transportation and also why is traffic getting worse?" he asked.
The measure amending the foreign Investment law will lower the number of direct local hires required for foreign companies. Both bills, which Mr. Duterte certified as urgent in April, remain pending in the Senate.
The bill seeking to amend the Retail Trade Liberalization Act is pending at the bicameral conference committee of the Senate and House.
"We see this as strong signals that the bills mentioned are being prioritized for passage soon. They will support economic recovery in the years ahead," Ebb Hinchliff, executive director of the American Chamber of Commerce of the Philippines, said in an e-mailed statement.
Mr. Duterte also asked lawmakers to approve a unified system of separation, retirement and pensions for the military and police. Congress should likewise create a Department of Migrant Workers and Overseas Filipinos, he said.
"The State of the Nation Address (SONA) is tone-deaf," University of the Philippines political science Professor Jean Encinas Franco said. "The people want to know how COVID-19 will be addressed given the Delta variant and the slow pace of vaccine rollout."
Mr. Duterte's final address to Congress showed that his government was no longer interested in proper pandemic response, said Cleve V. Arguelles, a political science lecturer at De La Salle University. "Filipinos will be left on their own to recover from the debilitating effects of the pandemic."
After being in power for more than five years, Mr. Duterte has failed to create a locally resilient economy with a vibrant agriculture and high value-added industrial sector, Emmanuel Leyco, President of the Pamantasan ng Lungsod ng Maynila, said in a Facebook Messenger chat.
"The Duterte administration's economic legacy would join that of the previous regimes who likewise followed the same economic policies that rode on the back of the overseas remittances with a faint industrial and a low agricultural output but was thrown off the saddle as the economy hit a major COVID-19 hump," he added. — with Kyle Aristophere T. Atienza and Jenina P. Ibañez