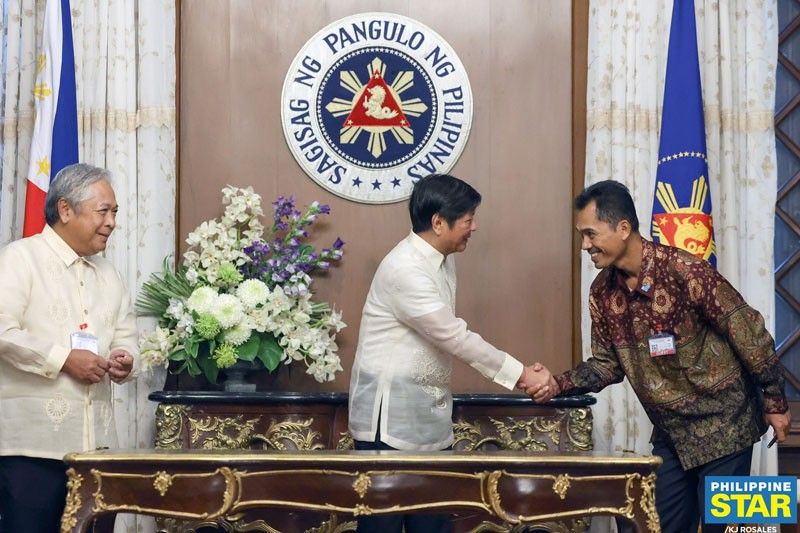 President Ferdinand Marcos Jr. attends the ceremonial signing of the South Commuter Railway Project, a section of the North-South Commuter Railway System which aims to decongest traffic and lessen greenhouse gas emissions, at the Malacañang Palace on July 13, 2023. The agreement was signed by DOTr Secretary Jaime Bautista and Isman Widodo, general manager of PT Adhi Karya (Persero) Tbk.
MANILA, Philippines — The Department of Transportation (DOTr) is looking at the private sector to bankroll the delivery of four railways that would facilitate trade and travel in Luzon and Mindanao.
In a forum with the British Chamber of Commerce of the Philippines, the DOTr said it is searching for private firms that may be interested in funding three rail lines in Luzon and one in Mindanao.
Transportation Undersecretary Reinier Paul Yebra said the agency has turned to the private sector for help in putting up the Philippine National Railways (PNR) North Long Haul and South Long Haul.
It is also searching for prospective funders for the Subic-Clark Railway and Mindanao Railway Project.
All of these projects are leaned on to boost commerce and mobility in the areas that they will service.
China was supposed to finance the construction of the P175 billion South Long Haul, also called PNR Bicol; the P83 billion Mindanao Railway Phase 1; and the P50 billion Subic-Clark Railway.
However, China failed to act on the loan proposals filed by the Philippines for these projects.
The Philippines then decided to withdraw the loan applications last year to explore other options for funding like offering the projects to other countries or the private sector.
On the other hand, the North Long Haul seeks to lay down a railway that would run for 800 kilometers covering the Ilocos Region, Cagayan Valley, Central Luzon and Metro Manila.
Apart from passenger cars, the North Long Haul would include freight trains given that the rail line would pass through industrial sites, such as the Clark Freeport Zone, Poro Point and Port Irene.
Yebra added that the DOTr is building the Metro Rail Transit Line (MRT-4) soon after receiving the approval to proceed from the National Economic and Development Authority.
The MRT-4 stretches nearly 13 kilometers from San Juan City to Taytay in Rizal.
Yebra said the agency is accelerating the completion of big-ticket rails within and around Metro Manila.
The DOTr views rail transport as one of the most efficient means to move people and products around.
"The DOTr is accelerating the development, upgrade and construction of big-ticket rail projects to be able to move more people and goods," Yebra said.
"Also, investing in rail projects is climate positive as it encourages modal shift to mass transport systems," the transport official added.
Read the original article here.